Australian Game Cookbooks
While we may not always consciously think about it, the time and effort we dedicate to sourcing, preparing, eating and sharing our food forms a big part of our lives. Field to Fork Publishing brings together a selection of food, health and environmental topics to help you make informed and healthy food decisions beyond what's available from the supermarket.
With highly processed foods available everywhere, our nutrition and food lifestyle choices are increasingly leading us to more free-range and organic options. Many of us not only choose to consider the health benefits of what we eat, but also whether it has been sourced in a way that matches our ethical, environmental and sustainability beliefs.
Field to Fork – Second Helpings
$49.95 Includes Free Postage!
Welcome to our latest showcase of Australia's diverse, sustainable and environmentally friendly offerings in Field to Fork – Second Helpings. Each and every recipe has been kitchen and dining-table tested and are based on Australia's unique wildlife, including duck, rabbit, goat, kangaroo, venison and pork – even camel and crocodile make the plate this time. Sustainable harvest of this land not only makes sense environmentally, it's absolutely delicious!
As one of the top meat cookbooks in the world named in the 2022 Gourmand World Cookbook Awards, Field to Fork – Second Helpings is the perfect addition to your cooking library.
Field to Fork – The Australian Game Cookbook
Includes Free Postage!
Field to Fork – The Australian Game Cookbook celebrates the abundance that is Australia and its rich and varied wildlife. Whether you're on the coast and enjoying fresh seafood, in the High Country with wild venison, on the water with ducks or in the field with some quail, this cookbook will give you the perfect recipe to make a mouth-watering gourmet wild meat dish.
As the winner of the 2012 Gourmand Cookbook Awards Best First Cookbook – Australia award, Field to Fork – The Australian Game Cookbook truly is a valuable addition to your kitchen.
Out of stock
Field to Fork Select – 27 of the Best Australian Game Recipes
includes Free Postage!
Field to Fork Select is a quick introduction to cooking with kangaroo, venison, rabbit and much more. This handy soft-cover book offers 27 of the best Australian game recipes and would make a terrific gift for the budding chef.
Venison Bites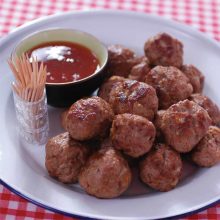 500g venison – minced
1 teaspoon dried tarragon
1 teaspoon dried basil
2 tablespoons honey
1 tablespoon soy sauce
2 tablespoons cream
1 onion – finely chopped
1-2 cloves garlic – crushed
2 teaspoons chicken stock powder
½-¾ cup dry breadcrumbs
1 egg
salt and pepper – to taste olive oil
tomato or sweet chilli sauce – to serve
Combine all ingredients, except the olive oil, mix well and form into little rissoles.
Pan-fry the bites in a hot, well-oiled frypan until golden brown. Alternatively, bake in a preheated 180C oven until cooked and golden brown, keeping a close eye on them so they don't dry out.
Serve with tomato or sweet chilli sauce for dipping.
Pork Satay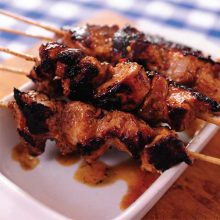 2 tablespoons peanut butter
50ml water
50ml sweet chilli sauce
50ml ketjap manis
500g pork – cubed
Place the peanut butter in a small jug, add 50ml of water and stir until smooth. Stir in the sweet chilli sauce and ketjap manis.
Place the pork in a deep dish. Pour over the satay mixture and rub it well into the pork. Cover and allow to marinate for at least 1 hour.
Thread the meat onto bamboo skewers and cook over hot coals, basting with the remaining marinade during cooking.
Kangaroo Fillet with Couscous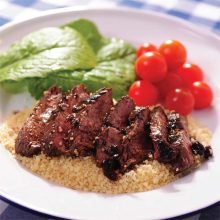 500g kangaroo fillets
1 cup red wine
2 tablespoons soy sauce
250ml water
dash olive oil or butter
salt – to taste
250g couscous
cos lettuce and cherry tomatoes – to serve
Marinate the kangaroo in the red wine and soy sauce for at least 30
minutes.
To prepare the couscous, bring the water to a rolling boil in a heavy-based saucepan, add the oil or butter and a good pinch of salt, then add the couscous. Stir with a wooden spoon for a couple of minutes until all the water has been absorbed and the couscous is light and fl uff y. Remove from the heat and set aside.
Grill the kangaroo for 2-3 minutes on a very hot grill or hotplate. Remove from the heat, rest for a few minutes, then slice thinly.
Place a mound of couscous on each plate and arrange the kangaroo on top. Serve with cos lettuce and cherry tomatoes.
Sweet Chilli Prawns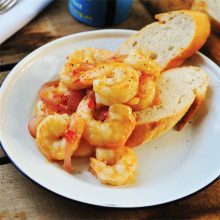 3 tablespoons oil
1 large onion – sliced
250g large prawns – shelled and deveined
3 tablespoons sweet chilli sauce
salt and pepper – to taste
steamed rice or crusty bread – to serve
Add the onion and prawns to a hot, well-oiled wok and stir-fry for 2-3
minutes.
Add the chilli sauce, season, and stir-fry for another 3 minutes.
Serve immediately with steamed rice or warm crusty bread.