Book review by Dave Rose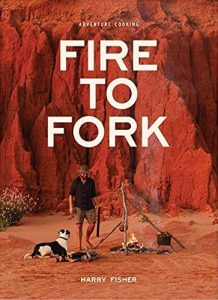 Feeling hungry on a trek into the Outback? Then maybe Harry Fisher can offer some advice. His recently released book Adventure Cooking – Fire to Fork delivers food for thought about how to rustle up recipes for peckish adventurers eager to consume tucker after a strenuous day in the wild.
But this does not mean any expected rudimentary fare such as eggs on toast. And it's a long way from the baked beans stodge slopped out in the classic cowboy passage from the Mel Brooks' comedy film Blazing Saddles.
Instead, Harry serves up a host of delicious dishes, some of which would not be out of place in many fancy restaurants. Yet they are simple enough for any part-time cook to try out when on outdoor manoeuvres. And it is all to do with fire.
Harry uses flames as the core of his preparations, which have seen him operating as a creative foodie thanks to his love of cooking combined with his passion for the Outback. He acquired the basic culinary ability from his mum, Georgie who is a chef and to whom this book is dedicated. Progressing one step at a time, he built up his own skills.
The book opens with Harry explaining how the project began almost by accident. His initial career path involved what he describes as how he 'went to work in the city as a big-shot accountant.' But weekend escapes to the wide open yonder saw Harry taking up most of the cooking duties and impressing his mates with how he never appeared to use the same ingredients twice. One thing led to another and from YouTube and Instagram origins the Fire to Fork concept blossomed. It must have been a family team effort as Harry credits his sister Rose with coining the phrase as well as designing his subsequent logos, merchandise and building the website.
The whole book is a joyous journey for cooks who are blessed with modest but discerning desires. Each worded page is adorned opposite with colour pictures of the food or parts of the process. There are even some double pages just devoted to photo evidence. Readers can feel free to jump in on any of the near 200 pages.
But Harry does not rush head of himself. Playing with fire can mean just that. So, he explains the basics of simply lighting a blaze out in the wilderness followed by guidance on how to initiate and vary the respective degrees of heat. Then the instruments that comprise the cooking gear are run through, before Harry touches on camp kitchens and what comprises his mobile pantry.
From there, it is into the recipes with a total of six sections flowing from side dishes to desserts and drinks. In between are quick meals, meat, chicken and seafood.
Each entry features Harry's prologue about his choice and is backed up by sidebars logging the ingredients and gear needed for the relevant procedure. Selective tips also pop up. And every now and then you will find a page devoted to expanding on the preferred cooking measures such as how to cook a steak or go about preparing a fish or crabs. It is basic stuff, or maybe not, for some people but Harry wants you to do things right.
The writing style is easy to warm to. Harry seems to pen his thoughts as the opposite to high-brow directives. Some of descriptions and reasoning come across as tongue-in-cheek and almost self-deprecating. But his down to earth approach strikes a chord. For instance, his summing up of the garlic scallops (Page 159) sets the scene perfectly. Harry enthuses: ''The classic combination – fresh seafood, garlic and crusty bread. It just works so bloody well, especially with something cold in hand, looking over the water."
That encapsulates Harry's happy-go-lucky but meticulous manner which puts quality at the top of the agenda. So, if you fancy hitching up your trailer to include grub that will make bush meal breaks on the road anything but boring, delve into the Fire to Fork offerings. There is certainly plenty to choose from.
After Harry has done enough to tantalise any traveller's palate, a comprehensive five-page index rounds things off with all the various ingredients listed in tandem with the dishes that they are part of.
Adventure Cooking ‑ Fire to Fork by Harry Fisher, Exploring Eden Media, RRP $39.95. Available from firetofork.net