Outback Survival  book review by Rachael Oxborrow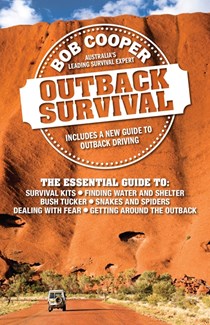 This ultimate guide to survival in Australia's many varied and remote landscapes will set you up for success thanks to one of our country's most respected experts.
Bob Cooper is known for his work over the past 30 years to educate thousands on how to survive in Australia's Outback.
The renowned trainer and guide explains the essential five priorities in survival situations and tells you why a positive mental outlook could make or break your chances of making it out alive.
He takes you through securing water, warmth, shelter, signals and food when in remote areas and what it is truly like to be in a survival situation.
It is clear Bob practises what he preaches in Outback Survival, when he uses personal stories and anecdotes to explain his tips and tricks to Outback travel and emergency situations. He has picked up tools of survival from the experiences of living with traditional Aboriginal communities, instructing with Special Forces Units, lecturing with the Texas Parks and Wildlife Service on desert survival in the Mexican Desert, delivering wilderness lessons in the UK and learning the skills of the bushmen of the Kalahari Desert in Botswana. He talks about testing his own survival kit for 10 days in the Australian desert, travelling 160km of rough terrain on foot to go back to safety.
Tips, tricks and brute strength aside, Bob advocates many times throughout his book that knowledge and mindset is the key to survival.
'Knowledge is what we all need. Knowledge is empowering and this helps anyone, anywhere in situations when we need to put emotions aside and make rational decisions in a timely manner,' he writes.
This book also includes a guide on Outback driving to maximise your safety but also enjoyment. Bob breaks the guide up into things to do before you leave and how to approach conditions once on the road.
While reading you find yourself entertained by Bob's tales of his mishaps, successes and travels while you may observe that much of his advice is common sense. But according to Bob, it's not until you're in the thick of a survival situation that you realise common sense will save you.
Read the book, plan your trip and pack this to refer to time and time again.
For more information and to purchase your copy: https://greataustralianoutdoors.com.au/product/outback-survival-by-bob-cooper/